When Caleb was involved in a head-on collision suffering a very serious traumatic brain injury and multiple fractures, his chance of survival, let alone recovery, was very slim.  His father and grandmother didn't know if he would even regain his faculties. Recovery was a long and slow process. But then Colonel came into his life.
Colonel was a pet therapy dog who instantly bonded with Caleb. Whenever Colonel was in the room, Caleb would be more alert. His eyes would light up, and he would do more and go further in his therapy than what was expected of him. With Colonel's help, Caleb was able to heal and recover, and ultimately regain a normal life. (View the story of this miracle below…grab the box of tissues first)
Little Iris is a 6-year-old girl with severe autism, having never spoken a word, and very timid.  That is, until Tula was brought home by Iris' parents, beginning a magical friendship.  Tula even helped Iris overcome her fear of bathing and even SWIMMING! Oh yes…Did I mention, Tula is a cat?
According to Iris' mom, Tula changed their lives. This wonderful friend brought out new learning and the family is so thankful that they even wrote a book about it! (watch this amazing story…Tula will surprise you!)
Animal Assisted Therapy, aka pet therapy, came into being in the middle ages primarily in Belgium when people discovered the physical and mental benefits of being around a pet animal. Recently, Animal-assisted therapy is a growing field that uses animals to help people recover from (or better cope with) health problems, such as heart disease, cancer, surgical recovery, and traumatic experiences.  Animal-assisted activities have also been used for general healing purposes, such as providing comfort and enjoyment for nursing home residents. It is for these reasons (and more!) that you may see more therapy animals in hospitals, rehabilitation facilities, and recovery centers. In fact, many scientifically advanced drug rehab centers all over the world use pet therapy.
Animal-assisted therapy can significantly reduce pain, anxiety, depression and fatigue in people with a range of health problems:
Children having dental procedures
People receiving cancer treatment
People in long-term care facilities
People with cardiovascular diseases
People with dementia
Veterans with post-traumatic stress disorder
People with anxiety
And it's not only people with health problems who reap the benefits. Family members and friends who sit in on animal visits say they feel better, too.
It is also important to recognize the amazing stories of Service animals as well.  Jason left his hometown of Vermont at 18 years old and served active-duty in the Army for 4 years. When he returned to the States, he came home and became a police officer in Vermont. His impressive 20 year service ultimately brought him to a traumatic shooting incident, leaving him with Post-Traumatic Stress Disorder (PTSD) and the inability to return to work.  After seeking help from multiple therapists, it was Lucas who healed him the most.  Lucas offers safety and love, allowing Jason to validate his PTSD and reenter the social word with less anxiety and fear.
And you don't need a formally trained animal to reap the benefits of having a pet and incorporate it into your Self-Care routine.
Distraction: Pets are loving and excited to see you, especially if you have been away for the day.  Coming home from work, most people need time to decompress. Pets provide something new to think about and make you smile!
Stress Relief:  Stress is everywhere and it can take a significant toll on our mental and physical health.  Having a pet is a great stress reliever: having your dog bound towards you, hearing your cat purr, or even watching your turtle follow your hand when you offer his food can bring a smile to your face, calm you down, and decrease your stress levels.
Movement: Some pets make you go outdoors, which can have a calming effect, whether its a quick walk around the yard or a light job through the park! But even if you aren't outdoors, pets encourage you to move…even if it's just to clean it's cage or litterbox!
There are programs online that allow you to register your pet as an emotional support, therapy, or service animal. I do not have personal experience or affiliate relationship with any of these services and am providing a link for your convenience to the Official ESA Registration of America website. However, many people find this service incredibly useful, especially with flying on an airplane, renting housing, and daily activities such as riding a bus or going to a grocery store.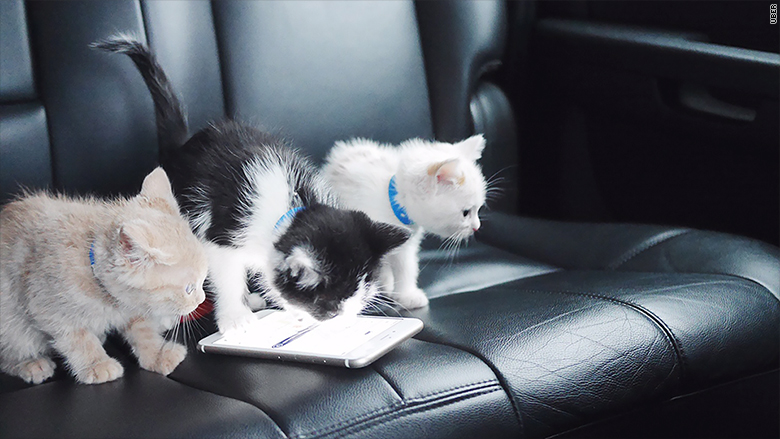 UberKittens went viral in 2015 for a reason!
So even if you don't have a pet, you can still reap the benefits of pet therapy! There are more and more pet-therapy services emerging each day so please keep this service in mind, especially if you are looking to decrease your stress or recover! Check your local resources for services in your area and please share your personal stories with me! I would love to hear them, and even do a follow up article featuring your stories!
Pet Therapy heals
Stress relief at work: Harvard blog
Animal assisted Therapy Psychology Today
American Nurse Today Pet Therapy