Self Care During your Period
10 Essential Tips for Survival
For many of us, that dreaded time comes once per month…your period/menstrual cycle. You know that you should be thankful for a healthy body that renews itself, but it's tough when you feel bad! Cravings, bloating, irritability, extra trips to the bathroom and avoiding all things white…ugh. However, I have found some tips over the years that have helped me tremendously! Here are some of my favorite Self Care Period tips and products to make dealing with "Aunt Flo" much easier!
Tip 1: Hydration
Staying hydrated is so important every day of the month, but during your period, it is especially important! When you are menstruating, you lose blood and fluids. You may experience either constipation or diarrhea. For all of these symptoms, hydration helps!
Drinking enough water prevents feeling weak & tired, helps prevent constipation, and replenishes lost fluids. Hydration also fights bloating and cramping which are common due to estrogen and progesterone levels fluctuating during menstruation. For more info on the amazing benefits of water every day, read "My Hydration Experiment: why water is magical."
Tip 2: Anti-inflammatories
Taking an anti-inflammatory (like Advil or Aleve) for around 3 days prior to the start of your period decreases cramps and shortens your period length. How does it do this? By blocking your body from making more prostaglandins, chemicals released during your period that squeeze the smooth muscles in your uterus causing cramps and in some cases, diarrhea.
If your periods are regular, and you can use a good period tracking app, set an alert to start the medication! Try these easy doses or check with your health care provider for prescription strength dosing:
Aleve/Naproxen Sodium 220mg: 1 tablet in the morning and 1 tablet in the evening with food and a large glass of water
Advil/Motrin 200mg: 2 tablets three times per day with food and a large glass of water
Tip 3: Good Sanitary Products
There is nothing worse than sanitary products that you can't rely on. I have tried so many generic and name brands and need something that can handle my flow, is comfortable, and doesn't leak. I recently discovered Blume products, which are 100% Organic cotton, no additional chemicals added, and are incredibly reliable. They are also biodegradable and safe for the environment!
The nice thing about Blume is that I can customize a sanitary box for only $10.99 per month and have it on auto-shipment. For me, the basic tampon package is exactly what I need. I even wore white shorts during my period and didn't worry at all! I also use panty liners and will occasionally treat myself to an add-on "treat" in my monthly Blume box.
Tip 4: Heating Pad
Using a heating pad can significantly ease cramps and keep you comfortable, especially when you are trying to fall asleep at night. I use a heating pad that has an auto-shut off feature and keep it plugged in by my bed.
Try crawling into bed 30 minutes earlier during your period, applying a heating pad, and doing your nightly self-care routine. You may find yourself looking forward to that time to relax at the end of the day.
Tip 5: Essential Oils
Essential oils can be a great way to relieve symptoms associated with PMS and your period. These can be applied multiple times during the day and can ease tension and stress, while decreasing inflammation in your body. These are my 3 favorites:
Lavendar Oil: Lavendar has incredible relaxation properties. During your period, it is a great oil to use for tension relief. You can rub it directly on your abdomen, lower back, or temples.
PMS Blend: This is a great product (also made by Blume) used to fight cramps, balance hormones and calm PMS symptoms. Apply it to your abdomen, wrists or chest in circular motions. This organic blend is made of clary sage, peppermint, geranium, bergamot, lemon and vitamin E and comes in a roller for easy application. I love this blend and it has become my new go-to, especially while I'm at work.
Copaiba Oil: Copaiba oil is great for stress relief and anti-inflammatory properties. I use this every day, 2 drops under my tongue, and find that I have less PMS symptoms. Copaiba oil promotes calmness, stress relief, and hormone balance.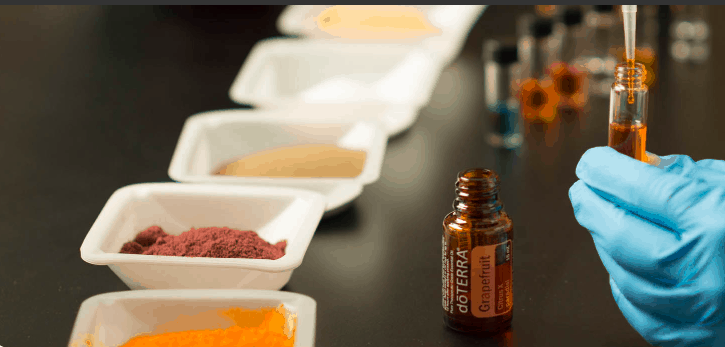 Tip 6: Easy Stretches and Exercise: Moves to decrease bloating and cramps
Sometimes cramps make you feel so blah! There are some stretches that target symptoms of PMS and your period! Yoga in general has been shown to improve mood and provide increased energy, but stretches such as "legs up the wall" and "child pose" can help diminish cramps! There are also stretches to improve back pain and twists to fight bloating so enjoy this infographic! And for more information on how to incorporate exercise into your daily routine, see the article "How to Trick yourself into Exercise."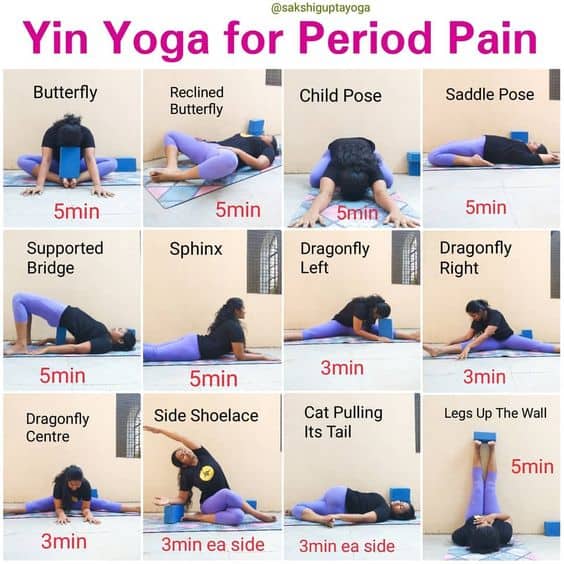 Tip 7: Habit Tracking to avoid surprises
I find that Habit Tracking is incredibly insightful. This can help you recognize trends and patterns that are specific to YOU, which I absolutely love. Some habits to track during your period include:
foods/cravings,
mood
flow days
what helped/didn't help
skin
activity
bloating
Bowel movements
You can customize your own habits and track them in a Habit Journal I love this adorable planner that is fully customizable and has flow charts and even comes with a set of colored pens! Keep it in your nightstand and record your daily patterns to personalize your life!
Tip 8: Protect your Skin: put an end to breakouts
Skin breakouts and acne are so common during your period, however they don't have to be! Using a few easy tricks can keep your skin clear or at least diminish breakouts!
Switching to a foam cleanser, using glycolic acid products, and changing to a light moisturizer can all fight breakouts! These products are gentle on your skin while fighting dirt build up and providing hydration!
And of course diet and water consumption helps with skin health as well. During the summer months, make sure to use a sunscreen that won't clog pore or irritate your skin!
Tip 9: Snack
Often times you don't feel like eating a full meal while you have your period. Cravings, bloating, and cramps make you want to crawl in bed an gnosh on chocolate and chips! But foods that are high in B1 and B2 vitamins (like fortified breads and cereals) can soothe cramps and fight bloating. Skip the high sodium and greasy foods and substitute them with yogurt, spinach, salmon, baked potato, wheat bread, and dark chocolate. Refer to this excellent infographic that tells you which foods to eat for your worst period symptoms:

Tip 10: Cleaning Your Clothes
There is nothing worse that having to throw out your favorite Victoria Secret panties because of your period! Always keep a spare pair of underwear in your purse so you can immediately run stained undergarments under cold or luke warm water and scrub with hand soap. Then once you get home, you can use gentle products like a mixture of baking soda and salt to work into the stain and you should be able to save your clothing!
You can also use a product such as Puracy Natural Laundry Stain remover, which is an enzyme-based spot cleaner that is non-toxic, non-bleaching, and hypoallergenic. With a money-back guarantee, it's an easy product to try!
Bonus Tip: Sleep and Rest
Our bodies produce an increased amount of progesterone during menstruation which can make many of use feel more sleepy! You can try 20 or 40 minute power-naps during the day, but make sure to get at least 6-8 hours of good quality sleep per night. You many even need more than that, depending on your own body's response, so be sure to track how many hours you personally need during your period to prevent feeling too fatigued. For more information about the importance of sleep, read the article "The Health Benefits of Sleep."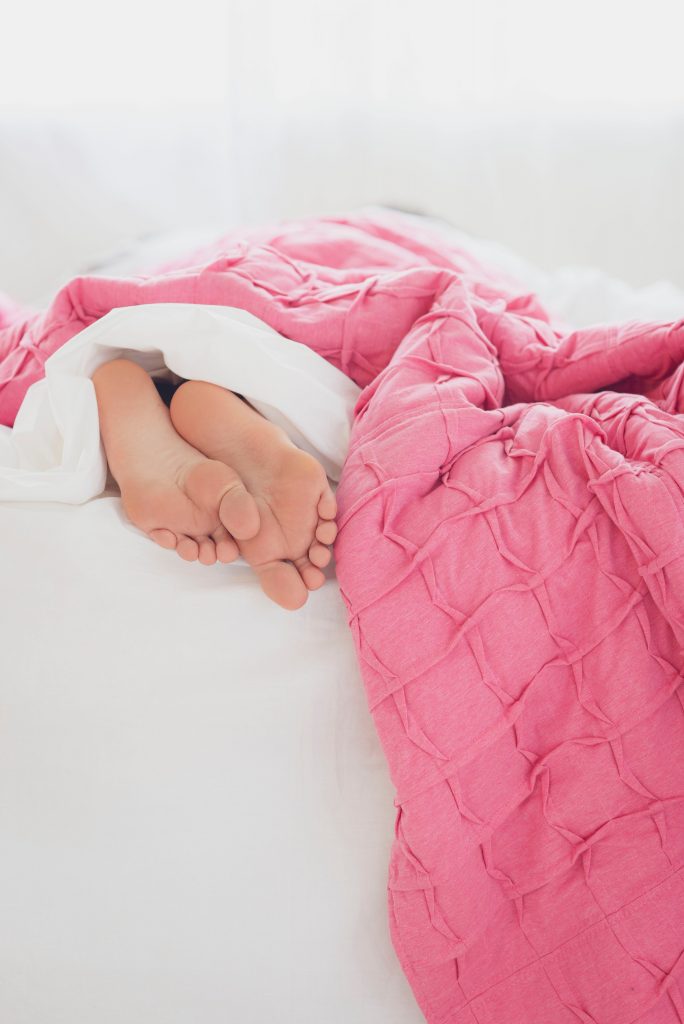 So there you have it! Some great tips to make that "time of the month" less painful and easier to handle! What tips have you tried that have been helpful? I'd love to hear from you!
"Stop mansplaining menstruation, we've got this."

― Silvia Young, My FemTruth: Scandalous Survival Stories