10 Favorite Self Care Quotes
Find Inspiration with these Self Care Quotes from Top Wellness Bloggers!
There is peace in hearing words of wisdom–I love a good quote! I have collaborated with my favorite Self Care bloggers and compiled a list of Self Care Quotes! Do you have any favorite self care quotes? I would love to hear them!
*Please get in touch if you would like to be considered for future collaboration projects!
Find Peace.
"There is no need to go to India or anywhere else to find peace. You will find that deep place of silence right in your room, your garden or even your bathtub."

– Elisabeth Kubler-Ross
(Quote submitted by Hannah who is the author and creator of www.becomingwhoyouare.net,
Here you will find inspiring psychology-based articles and resources on living with greater courage, compassion, and creativity.)
You are the Universe.
"Stop acting so small. You are the Universe in ecstatic motion."

-Rumi
(Quote submitted by Tammi who is the author and creator of girlunfinished.com. , which is a self care and spiritual lifestyle blog. )
Learn from Winnie the Pooh.
"Reminder that Winnie the Pooh wore a crop top with no pants & ate his fave food & loved himself so you can too."


-Unknown

(Quote submitted by Mandy, who is the author and creator of MandysDIYCare.com. Mandy is passionate about helping women creatively find rest through her journey with self care and self worth.)
Joy from Within.
"Nothing can dim the light which shines from within."

– Maya Angelou
Quote submitted by Catherine is the Founder and creator of the Simply Joyful Journey Podcast. She is passionate about helping others bring more joy into their lives! For more on Self Care, Joyful Motherhood, Meditation, & Intentional Living visit SimplyJoyfulJourney.com.
Our Online Persona.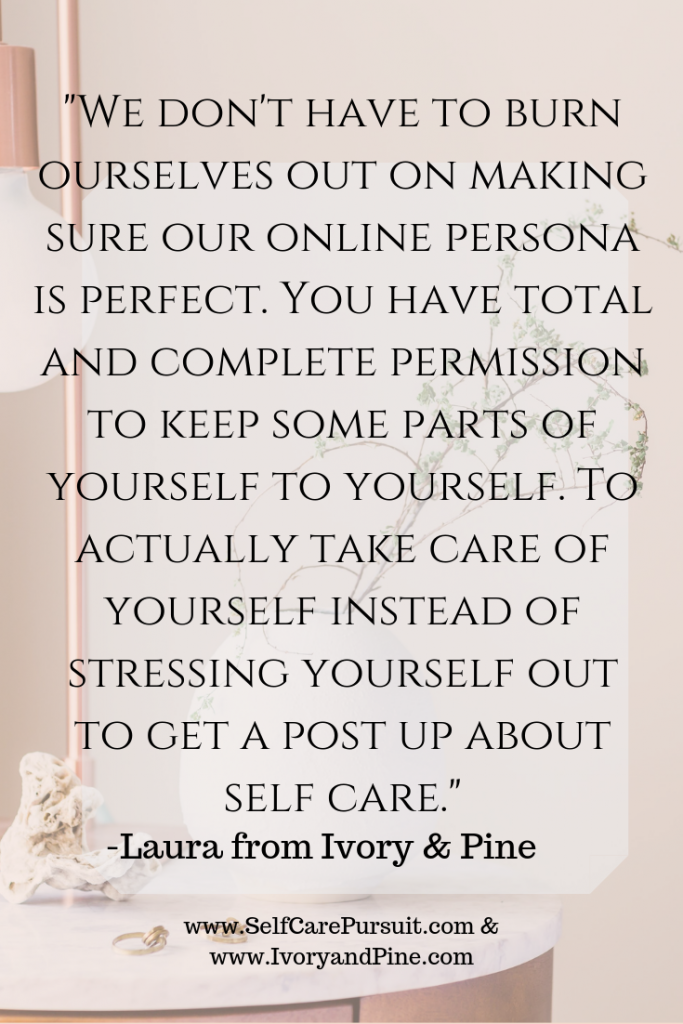 "We don't have to burn ourselves out on making sure our online persona is perfect. You have total and complete permission to keep some parts of yourself to yourself. To actually take care of yourself instead of stressing yourself out to get a post up about self care."

-Laura from Ivory & Pine
(Quote submitted by Laura, who is a licensed professional counselor and founder of Ivory & Pine, a blog about all things intentional living, particularly self care and mental health. She is passionate about helping people maximize their potential, embrace their identity, and clarify their purpose. Laura loves french press coffee with a little too much creamer, hiking through the Rocky Mountains with her boyfriend, her Midwest roots, and dabbling on the ukulele. She lives in Denver, Colorado with her Australian Shepherd, Coco.)
Play and Enjoy Life.
"It is essential to our well-being, and to our lives, that we play and enjoy life.
Every single day, do something that makes your heart sing."

-Marcia Wieder
(Quote submitted by Lisa, who is the author and creator of Lisa Designs Life – Inspiring heart-centered encouragement to create space in your soul and home for a happier, mindful, and more balanced life. www.lisadesignslife.com )
See the Stars.
"If you cry because the sun has gone out of your life, your tears will prevent you from seeing the stars."


― Rabindranath Tagore
(Quote submitted by Sabrina, who is the creator and author of "The Budding Optimist," with an inspiring story of strength and resiliency. Through Sabrina's struggles she learned about hope and shares her lessons of strength and optimism with her readers.)
Carve out Time.
"It's impossible to dream when you are busy trying to survive. Self-care carves out the time you need to allow your self to dream again."
(Quote submitted by Amanda, who is the creator of Bliss Health Coaching which is a blog about mindset, self-love, and overall health. )
True Personalization.
"When you try to plug and play someone else's self care into your lifestyle, most of the time it's going to feel against the grain. Either it won't make you feel good or it won't work within your schedule for a consistent routine.
Self care is the boat that takes us down the river on our journey. If we're constantly palling out water on some days, but others are dry, we're far more likely to remember the days that we think we're not going to make it…

With consistency comes true personalization, and this requires really getting to know yourself. What you need out of your self care."
(Quote submitted by Patricia. Patricia is passionate about helping other women hone their vision, focus their ambition, & prioritize their well-being. Her expertise is in helping women to achieve a bigger impact on personalized goals, nurture the fire that resides inside them, & guiding them through the process of figuring out how they show up in the world as their true, authentic self in every aspect of their lives. You can read more at PatriciaJHancock.com)
Design Your Own Life.
"Self care allows you to design your life. It's about being intentional in choosing the way you live."

Sarah | Self Care Pursuit
(Quote submitted by Sarah at Self Care Pursuit. Sarah is the creator of Self Care Pursuit, which is a blog that focusses on mindfulness, intentional living, and life balance.)